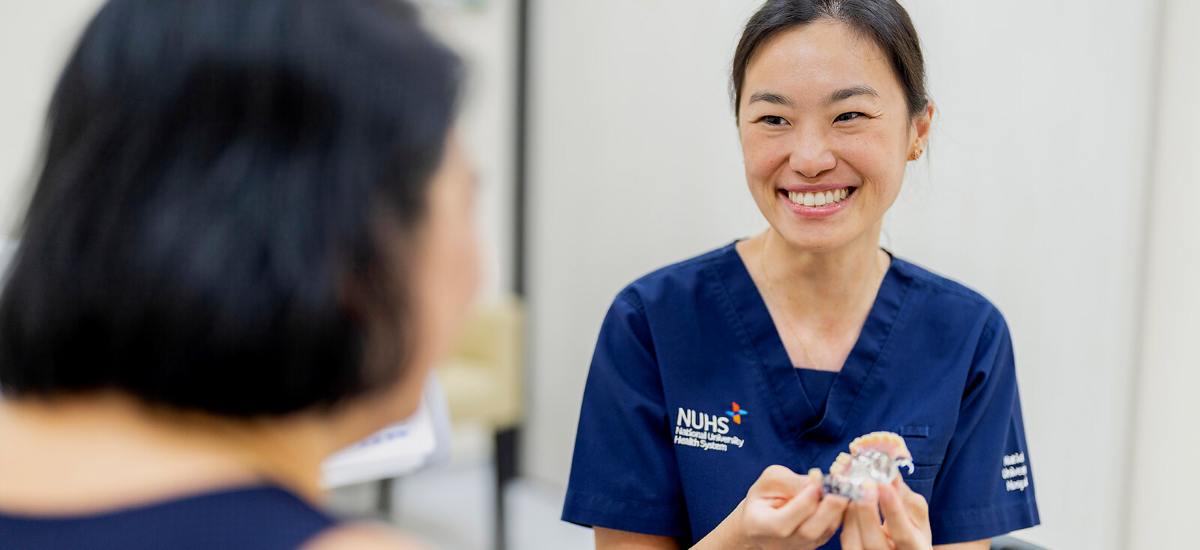 News
Helping you smile in your golden years
Published on 24 May 2023
The NUCOHS dental clinic @ AH aims to maintain the oral health of elderly patients. Find out why oral health is key to a good quality of life in your golden years.
For some elderly, doing simple things in life that many of us take for granted – such as eating solid foods, or walking without help – can be challenging, especially if they have certain pre-existing health conditions.
This was the case for Mr Wong (not his real name), who found himself being unable to enjoy his favourite foods due to an ill-fitted denture and other dental problems that were causing pain in his mouth with every bite.
Over time, he developed an aversion to eating, suffered a loss in appetite, and eventually began to lose weight.
However, after much encouragement to seek treatment, Mr Wong, who is in his 80s, visited the dental clinic at Alexandra Hospital (AH). There, he was treated for his dental issues, and was given a new and well-fitted denture.
Today, Mr Wong has rediscovered the joy of eating, and is once again able to appreciate all his favourite foods.
While Mr Wong now has a new lease of life, there remain many seniors who continue to suffer from oral health issues.
As the majority of these older adults also have various pre-existing health conditions, a trip to the dentist may be far more complex than usual.
"This patient group usually have complicated medical problems or are at a more advanced stage of their diseases and this makes it more challenging for them to receive care," explained Dr Tan Mei Na, Head Consultant, Prosthodontics, Alexandra Hospital (AH), and Consultant, Prosthodontics, National University Centre for Oral Health, Singapore (NUCOHS).
"As such, in terms of treatment planning and delivering care, we need to ensure what we offer the patient addresses their needs, with consideration given to their medical, cognitive and functional status, and is as minimally invasive as possible, with focus placed also on maintenance and preventive care."
Due to the varied and complex health issues of the elderly, the expertise of geriatric dentistry – a branch of dentistry that delivers specialised dental care to older adults with pre-existing medical conditions – is often required.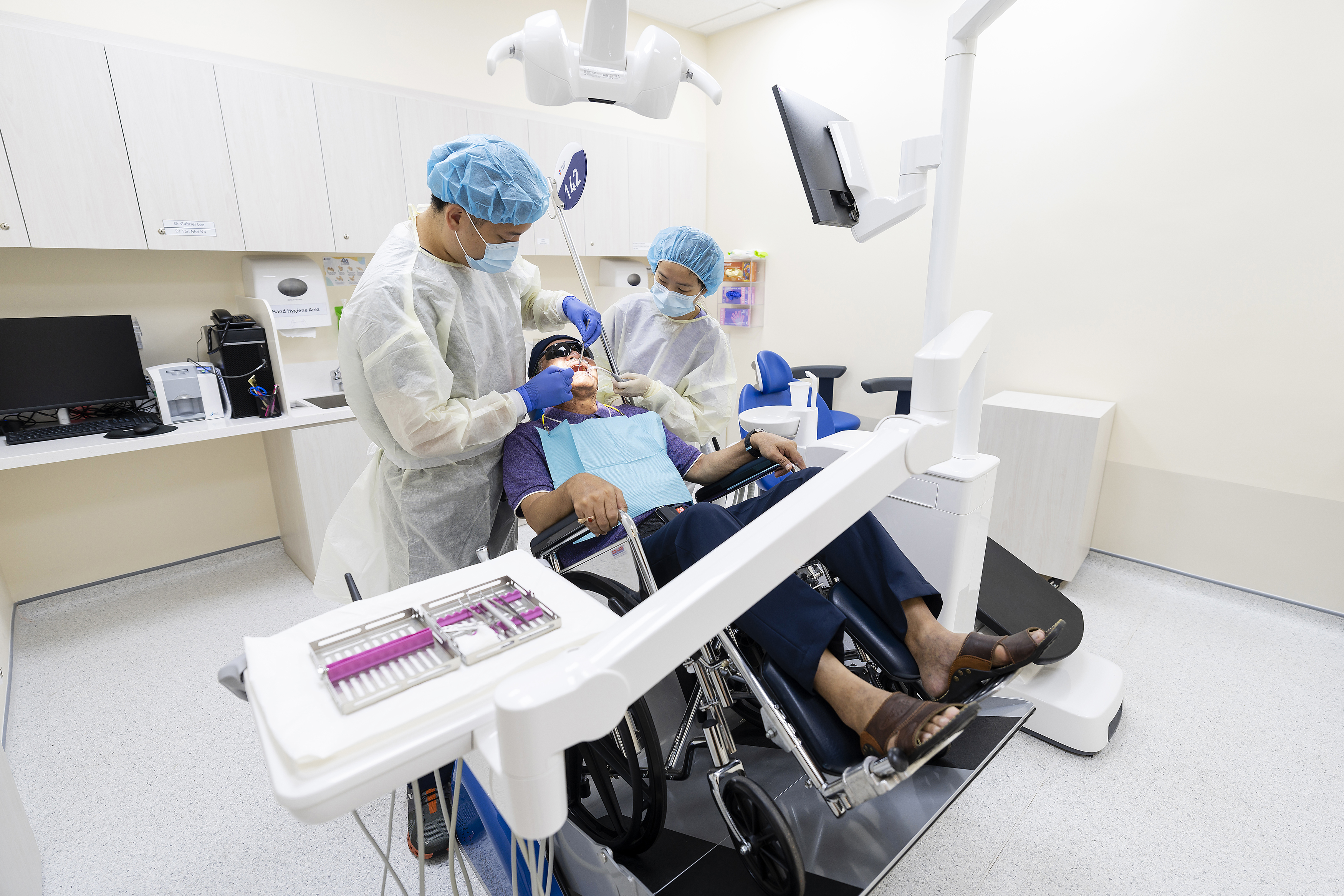 To meet that need, NUCOHS and AH have set up a new specialist dental clinic within the hospital that will cater exclusively to seniors 65 years and older, including those with medical conditions and complex needs .
Equipped with five treatment rooms, the clinic delivers a wide range of preventive and restorative dentistry geared towards maintaining the oral health of elderly patients. The treatments range from oral hygiene education, gum disease management, restoration of damaged teeth, pain and infection management to replacement of missing teeth.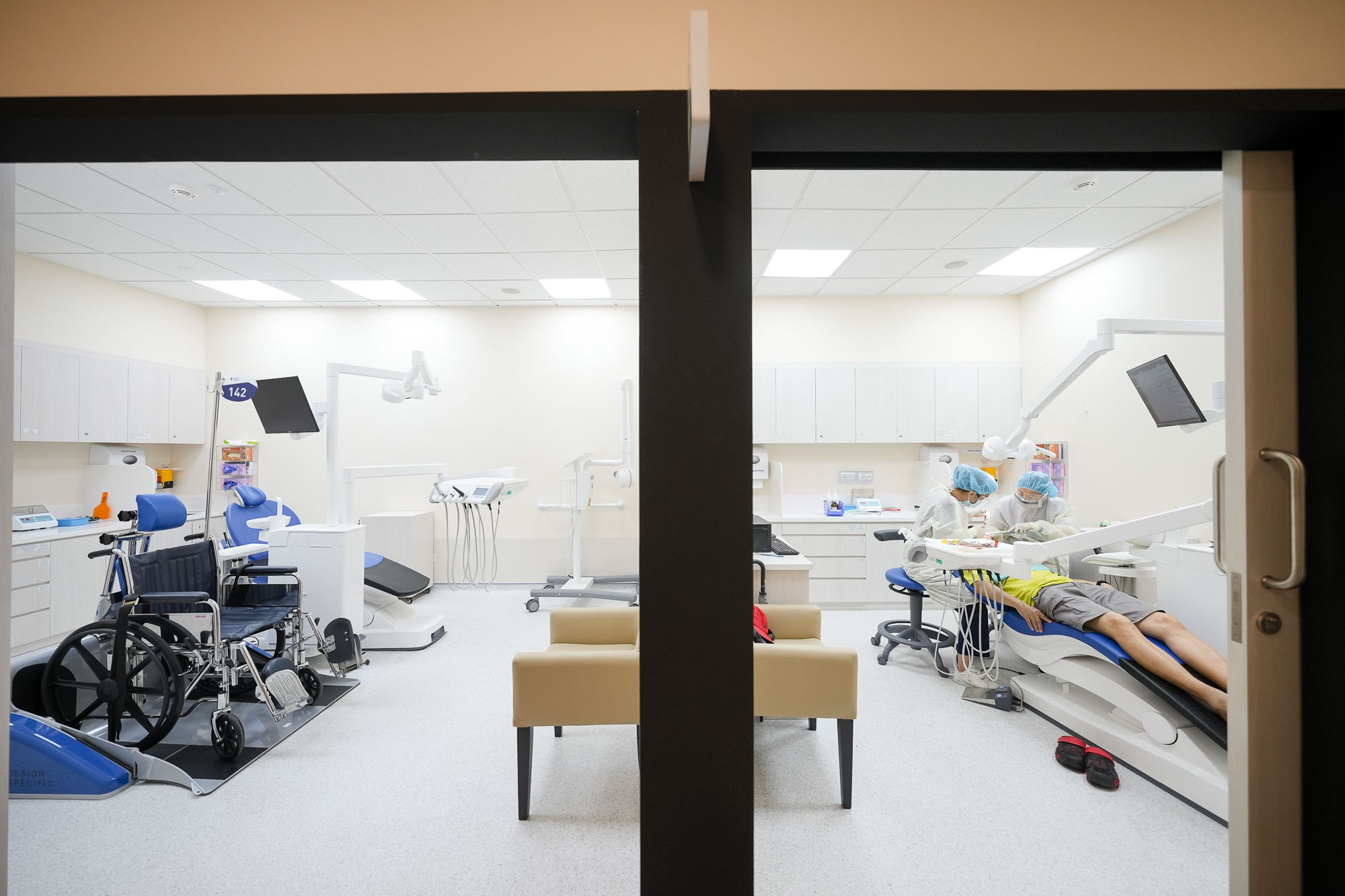 The clinic is also designed to cater to elderly patients with limited mobility – one treatment room comes with en-suite radiographic equipment for wheelchair bound or trolley bound patients. Some other facilities include a hoist for safer transfer of patients from room to room.
At this new clinic, the NUS Faculty of Dentistry will also be able to provide additional training for qualified dentists pursuing the Graduate Diploma in Geriatric Dentistry to advance their clinical management of senior patients.
Explaining the differentiating aspects of geriatric dentistry, Dr Tan said, "Sometimes dentists may seek for the 'ideal (and sometimes complex)' treatment plan for their patients, but this may not be feasible in the frail and dependent elderly.
"Modifying the plan appropriately is necessary as we understand the challenges our patient faces and what really matters to them."
Treating the dental issues of elderly patients can also alleviate the symptoms of their pre-existing medical conditions, and even prevent future ailments.
"There are associations between oral health and medical conditions such as diabetes, cardiovascular disease and even Alzheimer's disease," Dr Tan elaborated.
"In the case of diabetes, poor blood sugar control can worsen your gum condition and vice versa, if you have poor gum condition, this may make it more difficult for you to have good blood sugar level.
"Some medications given to patients with cancer or osteoporosis can also result in poor healing of the bone in the jaw and it is necessary for patients to have good oral health so as to prevent infection in the jaw in the future."
It can be easy to neglect oral health in the presence of other more pressing health conditions. Caregivers, however, can nudge the elderly and help them appreciate the importance of maintaining dental health and receiving treatments.
After all, it can significantly improve their quality of life – and this certainly will give the elderly more reasons to smile in their golden years.
In consultation with Dr Tan Mei Na, Head Consultant, Prosthodontics, AH, and Consultant, Prosthodontics, NUCOHS.