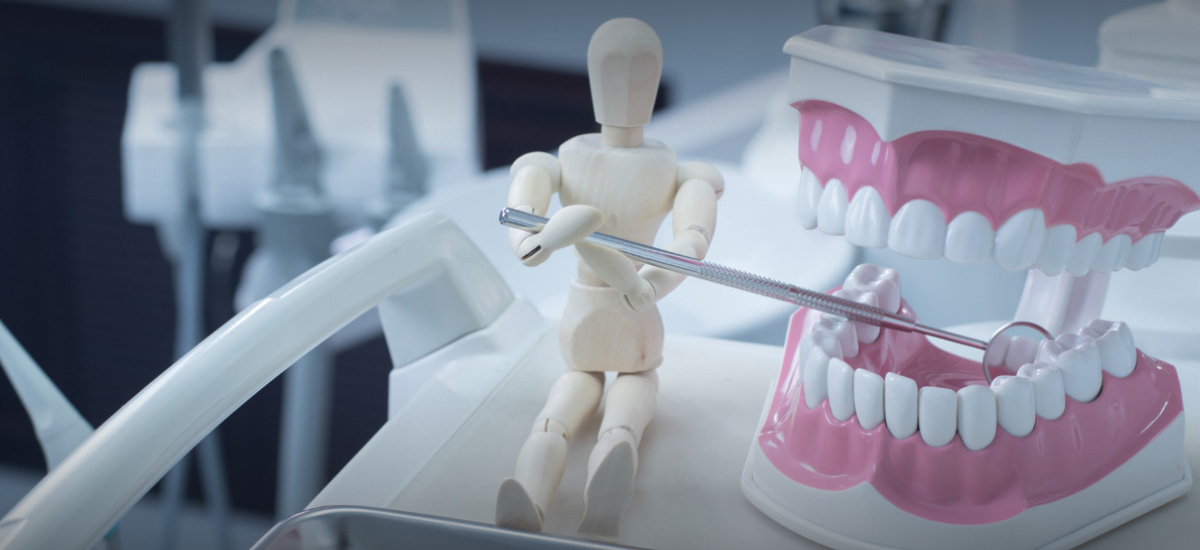 People
A rare breed: A dentist for the elderly
Published on 16 October 2021
With just three geriatrics-trained dentists in NUHS, geriatric dentistry can certainly be considered the path less travelled.
Right off the bat, geriatric dentistry stands out from other specialisations because cases are often medically complex – in other words, involving patients with medical co-morbidities. It's also unusual in the sense that it's not a recognised specialty in Singapore, so rather than being recognised as specialists, practitioners are considered geriatric-trained dentists.
But for Asst Prof Tan Mei Na, being a geriatric dentist is something that she finds both meaning and joy in. As one of the NUHS's three geriatrics-trained dentists, she decided to pursue this track after graduating from dental school because she felt that she wanted to do more.
"I wanted a career that is meaningful, where I can impact people who are more in need," said Asst Prof Tan, a Consultant at the National University Centre for Oral Health, Singapore (NUCOHS) and Asst Prof at the National University of Singapore's dentistry faculty.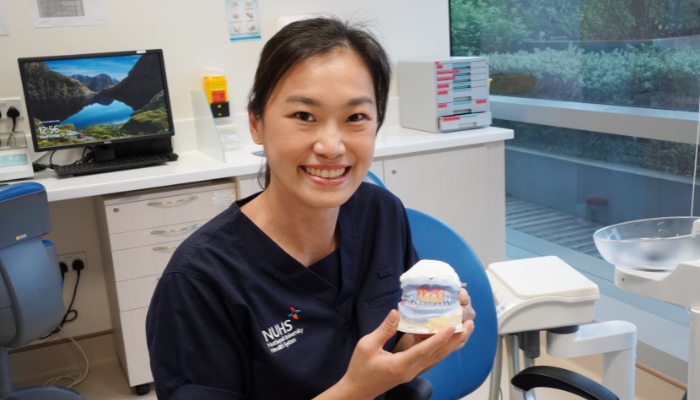 She had been working for a while when she found a scholarship which allowed her to train in prosthodontics with a sub-specialisation in geriatric dentistry.
"I was very fortunate, because I enjoy prosthodontics too. I think the stars aligned so I could do both things that I like," she added.
When patients aren't perfect
As a geriatrics-trained prosthodontist, dentures are "pretty much the bread and butter of what I do", quipped Asst Prof Tan.
But unlike regular dentists, geriatric dentists have to go into each case with a much more holistic perspective.
This is because the patients they treat aren't just those who are aged 65 and above. "Most healthy and independent elderly patients, even if they are 90 years old, can actually be seen by a general dentist," she said.
"Whereas we (geriatric dentists) tend to see patients who have multiple medical issues, who are a bit more challenging to handle."
This could be due to their conditions. For instance, some patients who are cognitively challenged can be difficult to manage on the chair. "Not because they don't want to cooperate, but some are just unable to or don't understand what is going on, such as patients with late-stage Parkinson's disease or dementia," she said.
As a result, geriatric dentistry needs to be tailored to the individual, not just to what's happening in their mouth, said Asst Prof Tan.
For example, the treatment might be a simple filling, but a patient who is frail might not be able to open their mouth long enough.
Other times, they might not be able to take care of themselves – even if it's just brushing their teeth.
There are also other considerations, like cost, medical conditions, and family and social support, she added.
"With other patients, you can nag and nag and nag, but for this group of patients, you sometimes need to accept the limitations…you need to see the patient as a person, and decide what treatment is best for them," she said.
But this acceptance took some getting used to. "When you're a dental student, you're taught that everything must be ideal. So initially I felt a lot of self-doubt," she shared.
"But after a while, as I learnt to understand my patients better, I also learnt to be a lot more confident and at ease with the decisions I make."
A heart for the elderly
But while it is technically demanding, Asst Prof Tan believes that there is a lot to be gleaned from treating geriatric patients.
"Personally, I enjoy talking to older patients, and learning from their experience, resilience and their wisdom," she said.
She recalls one patient she encountered, who had late-stage Parkinson's disease and has since passed on. "After a while, his condition just deteriorated, and all I could do was help him maintain his oral health," she said.
"But seeing his decline, and yet seeing how resilient he was and how he fought on – it was something that really put meaning to what I do."
Giving her patients a set of clean and functional teeth that they can be proud of is also a satisfying experience, she added.
"We like to assume that old people don't care too much about their appearance. But for some of them, it does mean a lot," she said.
"The other day, I saw a patient in his seventies…he'd lost a lot of teeth because of years of neglect. And when I gave him his dentures for the first time, he just started tearing. It was probably the first time I've seen a male patient cry.
"It's things like that that remind me why I'm doing what I'm doing," she added.
A greying population
And as the population in Singapore continues to age, Asst Prof Tan hopes that there will be more awareness of oral health among the elderly.
"A common misconception about oral health is that it is inevitable to lose your teeth as you grow older," she said.
"But caring for your teeth with preventive strategies, such as regular brushing and visits to the dentist, can help preserve them so that you can have a good quality of life, even in your old age."
She added that family members also play a large part in helping the elderly with their oral health.
"With the population ageing, there will be a segment that is going to deteriorate faster than the rest, who will probably need a bit more specialised care," she said.
"In such cases, it is important for their family members to take note of their oral health and encourage them to care for their teeth, and bring them to the dentist."
In consultation with Asst Prof Tan Mei Na, Consultant, NUCOHS & Asst Prof, Faculty of Dentistry, NUS.